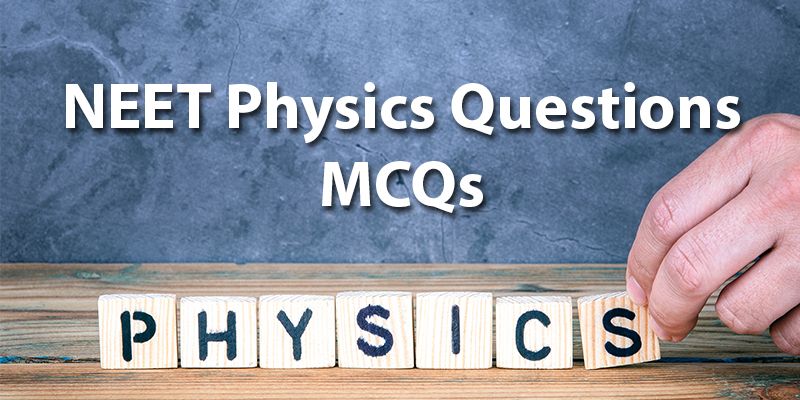 NEET Physics Questions - Chapterwise Question Bank
With these fully-solved NEET Physics questions, you can easily gain perfection in Physics. Physics is the most feared subject for most of the NEET aspirants. You must understand that it's not that Physics is difficult to understand but the difficult part is application of these common principles on the Physics MCQs that you find in NEET exam.
Most of the students know and remember every concept and formula in the NEET Physics Syllabus but when they get a NEET Physics Question, they are not able to either understand the complexity in the given Physics MCQ or able to recall the concept or apply the concept step-by-step on the given question.
NEET Physics Question Bank
Our team of experts have compiled a set of physics questions and arranged them chapter wise and topic wise so that you can get all those Physics MCQs of the kind that come generally in NEET at one place, in the NEET Physics Question Bank. You do not need to search for the right questions to prepare for NEET Physics. These questions not only include the previous year questions that have appeared in earlier years' medical entrance examinations but also our experts have added more new questions to make it comprehensive practice for all the NEET aspirants.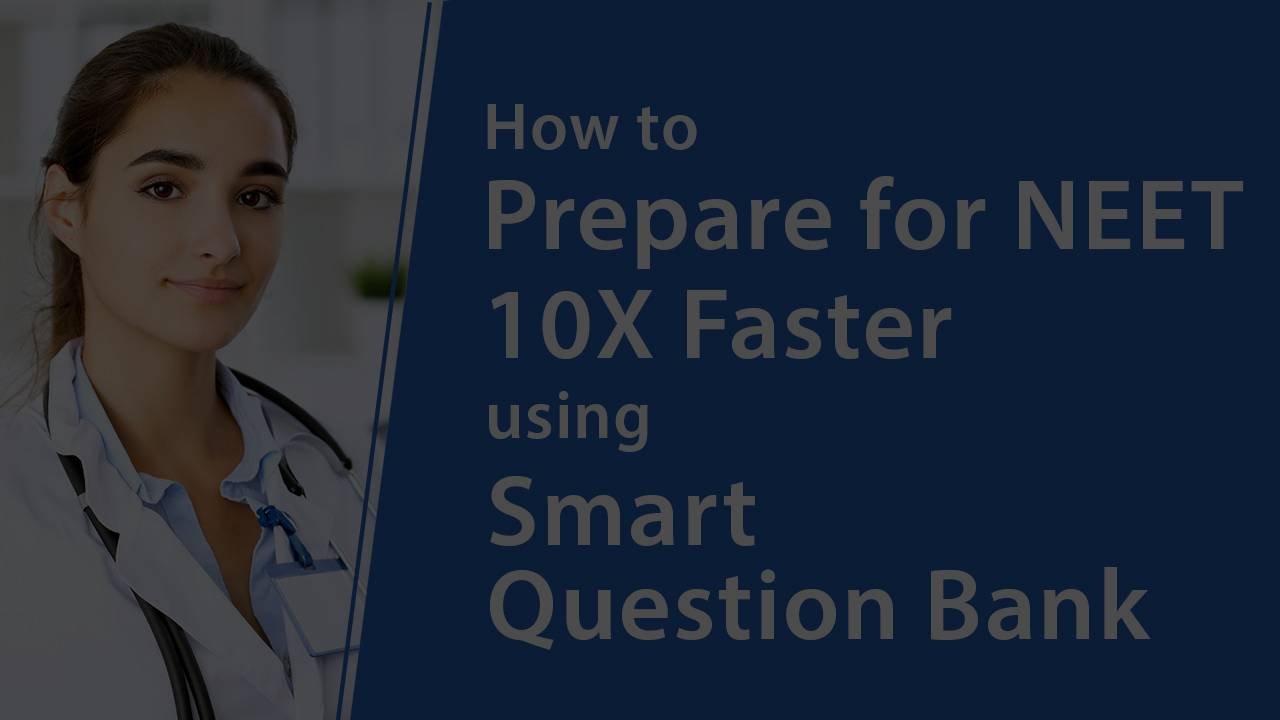 Based on whole lot of experience, our experts at CareerOrbits fully understand the difficulty faced by the students in solving Physics MCQs for NEET. Our experts also understand the kind of doubts and the steps on which students commit a mistake while practicing or answering Physics MCQs. So, for the benefit of all the NEET aspirants, our experts have not only created the Physics Question bank of NEET but also provided you with the detailed step-by-step solution for each of the Physics MCQ in such a manner that you can clear all your doubts at a glance and learn the right steps on a click.
This Physics Question Bank for NEET is arranged chapter wise and in increasing order of difficulty. The questions are as per NTA syllabus and as per the latest pattern for NEET. The difficulty level of the questions matches the difficulty level of Physics questions in the latest NEET exam. These questions should be practiced in sync with your school plan. You can practice any chapter any time as per your convenience.
Practice NEET Physics Chapter-wise Questions
| | | |
| --- | --- | --- |
| | Basic Mathematics for Physics Questions | |
| | Physical World and Measurement Questions | |
| | Kinematics Questions | |
| | Laws of Motion Questions | |
| | Work, Energy and Power Questions | |
| | Motion of System of Particles and Rigid Body Questions | |
| | Gravitation Questions | |
| | Properties of Bulk Matter Questions | |
| | Behaviour of Perfect Gas and Kinetic Theory Questions | |
| | Thermodynamics Questions | |
| | Oscillations and Waves Questions | |
| | Electrostatics Questions | |
| | Current Electricity Questions | |
| | Magnetic Effects of Current and Magnetism Questions | |
| | Electromagnetic Induction and Alternating Currents Questions | |
| | Electromagnetic Waves Questions | |
| | Optics Questions | |
| | Dual Nature of Matter and Radiation Questions | |
| | Atoms and Nuclei Questions | |
| | Electronic Devices Questions | |
NEET Physics 2021 Questions Analysis
NTA conducted NEET for the first time in 2019. While, the same pattern was followed in NEET 2021, the scheme and pattern has changed significantly for the upcoming NEET 2022. The distribution of marks and pattern is expected to be largely based on earlier pattern. However, this year NTA has introduced two sections, wherein Section A will consist of 35 questions (all need to attempted) and Section B will consist of 15 questions (where you can attempt any 10 questions). Our experts have analysed the NEET Physics questions' level and distribution of marks for the purpose of finding out weightage of marks of respective chapters.
The questions in 2021 NEET paper were largely based on NCERT books for 11th and 12th. Many of these NEET Physics questions were based directly on the concepts included in NCERT. Though, some of the questions were tricky too.
From Class 11th syllabus, maximum number of questions were asked from Mechanics and from class 12th syllabus, maximum questions were asked from Electrodynamics. The level of questions, seen from the NCERT standard, was largely from easy to moderate.
The distribution of marks in NEET Physics questions topic wise was as below:
NEET Physics Questions Analysis 2021
Classes
Topics
Number of Questions
Easy
Medium
Hard
Total
Class 11
Mechanics
6
10
0
16
Heat
3
1
0
4
SHM & Waves
2
1
0
3
Class 12
Electrodynamics
4
6
2
12
Optics
2
3
0
5
Modern & Electronics
4
0
1
5
NEET Physics Important Chapters for NEET 2022
For scoring decent marks in NEET Physics questions, you should know which chapters you need to focus upon. We suggest, you should not miss on any chapter and prepare every chapter in Physics for NEET. However, preparing the questions thoroughly from the important chapters in Physics would ensure 125-140 marks in Physics. The important chapters from which you should thoroughly prepare and practice Physics questions are listed below for your ready guidance:
| | |
| --- | --- |
| 1. | Mechanical Properties of Solids and Fluids |
| 2. | Current Electricity |
| 3. | Dual Nature of Radiation and Matter |
| 4. | Moving Charges and Magnetism |
| 5. | Thermodynamics |
| 6. | Work Energy and Power |
| 7. | Motion in a Plane |
| 8. | Ray Optics and Optical Instruments |
| 9. | Wave Optics |
| 10. | Thermal Properties of Matter |
| 11. | Gravitation |
| 12. | Oscillations |
| 13. | Alternating Current |
| 14. | Waves |
| 15. | Electric Charges and Fields |
| 16. | Semiconductors Electronics |
NEET Physics Chapter wise Weightage Expected in NEET 2022
Based on analysis of the previous 12 years' Physics questions in NEET (including erstwhile AIPMT), the average distribution of questions across various topics is likely to be as below:
Distribution of Marks in NEET Physics Questions
Topics/Chapters
No. of Questions
Mechanics
Units & Measurements
1
16 to 17
Motion in One Dimension
1
Motion in 2 Dimension
2
Laws of Motion
2
Work Energy & Power
2
Rotational Motion
3
Gravitation
2
Oscillations
2
Waves
2
Optics & Modern Physics
Ray Optics
3
10 to 11
Wave Optics
1
Dual nature of Matter & Radiation
2
Atom
1
Nuclei
2
Semiconductor Electronics
2
Electricity & Magnetism
Electric Charges & Fields
2
13 to 14
Electrostatic Potential and Capacitance
2
Current Electricity
3
Moving Charge & Magnetism
3
Magnetism & Matter
1
Electromagnetic Induction
1
Alternating Current
2
Electromagnetic Waves
1
Properties of Bulk Matter & Heat
Solids
1
6 to 7
Liquids
1
Thermal Properties
2
Kinetic Theory of Gases
1
Thermodynamics
2
Mastering Physics MCQs for NEET
Understanding Concepts before Practicing NEET Physics Questions
Before proceeding to practice the NEET Physics Questions, it is important to follow the steps as below:
Be thorough with Mathematics upto 10th class level

Mathematics is the basis of Physics. You would have problems in solving NEET Physics MCQs, if your basics of mathematics are not clear. As a biology student, most of the students have problems in dealing with Physics MCQs and that's because of the poor understanding and skills in basic mathematics. As such, you should make yourself thorough with the basics of mathematics in the following chapters or topics:

Logarithms
Trigonometry
Vectors
Differentiation
Integration
Quadratic Equation

Be thorough with Mathematics upto 10th class level

Have an overview of the concept
Correlate the concept to the things around, understand things around you better

Details of the Concept

Proceed to Details of the concept so that your conceptual understanding is absolutely clear

Master Theory from School Text books/NCERT text books of 11th and 12th and Study Notes
Learn and memorise Formula(e)
Finish the exercises at the end of the chapters given in your school text books/NCERT text books.
Revise Important Physics Concepts
Go through the Physics Study Notes which are very compact and include all that extra material from best of the books on the subject. You have the option of referring to extra reference books which are commonly referred to by the students and teachers for NEET Physics. Some of the books are:
Concepts of Physics by H. C. Verma
Concepts of Physics by S. L. Arora
Fundamentals of Physics by Halliday, Resnick & Walker
Considering the latest pattern of NEET exam, we recommend not to spend time on these books. The questions in NEET are now primarily based on NCERT syllabus. Our experts have included the relevant notes from best of the books in the NEET Physics Study Notes. You just need to master the NCERT text books and go through these Physics study notes which include the important concepts for quicker revision.
Take Chapter Tests
After you have practiced the NEET Physics questions for chapter, you should ideally give a gap of week or ten days and then take a mock test of that chapter. Try to finish the NEET Physics Chapter Test well before the allotted time. The questions in the Physics chapter tests are all as per the latest pattern. You should practice another chapter test of the same chapter again after a week or ten days.
Practice full syllabus question papers for Physics
You should practice all the questions from the NEET Physics Question bank and then practice the chapter tests. A month before the actual NEET exam, you should first, practice the questions in the revision lists, if any. Then practice the questions in the bookmark list. After this, you should proceed to take the full syllabus NEET Physics question papers. Practice these papers sincerely and try to finish these NEET Physics Papers within the allotted time.
Important tips for perfection in solving NEET Physics questions
Solving the NEET Physics numericals or questions sounds scary to most of the students and the reasons are quite simple. Not that Physics at that level is so difficult or the questions in NEET are out of the syllabus. You need to be quite methodical in practicing the questions in Physics. The way you practice matters a lot in taking your fears away for Physics and making you perfect in scoring well in Physics MCQs in NEET exam.
As discussed above, you should have brushed up your basic mathematical skills and have gone through the NCERT books and solved the exercises at the end of the chapters. Only after that you should proceed to practice NEET Physics questions otherwise you would be simply wasting your time and ending up in frustration. Also, please note that the complexity of the Physics questions in NEET is not as high as that in JEE Advanced (IIT-JEE). So, you should not be searching for those high level questions for your NEET Physics preparations.
You should follow the tips given below for a smooth and easy preparation and practice of NEET Physics questions:
Practice in sync with your school studies plan: Unless you have studied a chapter in your school, have studied the chapter from NCERT books and solved the exercises at the end of the chapters and have gained perfection in solving those questions from school text books, you should not ideally start with the practice of the NEET Physics questions. This is so because then, a large number of questions in the NEET Physics question bank, you would be able to attempt correctly adding to your confidence. You would also be able to quickly clear your doubts because your fundamental concepts are clear.
Get your doubts cleared immediately: Since, your fundamentals are clear, with our detailed step-by-step doubt solutions, you would be able to clear your doubts in less than a minute like thousands of other students, you would not be struggling with the question endlessly or running to get doubt clearance. Take a pause and think deeply about it as to why in the first place, you committed that mistake.
Repeatedly practice those questions where you had doubts: to be able to crack NEET exam with 600+ or 650+ score, it's important that achieve a level of doing a question right t every time. This is a position where no one can beat you. So, instead of assuming that you would be able to attempt a similar or same question in the actual exam, test your understanding sitting at home and check out if you are able to attempt that question right every time when you attempt it. So, practice this question at least three times through revision lists 1 to 3.
Near-miss questions: Every time you might not be sure at the time of attempting a question but you're your chosen option happened to be correct. This is a case of near-miss. You should add these questions again and again and for this purpose, you should add these questions to the Bookmark list.
Tricky or important questions: There are some questions which you may find tricky. It's quite possible that you have attempted those questions right in the first attempt correctly. But still, you may like to revisit or revise these questions again. You should bookmark these questions also and often revisit these questions whenever you find time.
Last minute revision or Reconnecting: Since the NEET exam syllabus for Physics is vast and you cannot cover all the chapters and practice all the questions once again immediately before the NEET exam, the bookmark list comes handy to you. You should practice those selected few questions from each chapter in NEET Physics to be able to reconnect with those difficult questions, the steps involved and the key formula. This helps you refresh and revise the important concepts and key formula(e) at the nick of time boosting your confidence and improving your performance in NEET Physics
NEET Preparation for all subjects
If you are preparing for NEET, then you need to prepare and practice all the subjects in the syllabus. Here are some useful links that you can utilise to strengthen all the three subjects i.e. Physics, Chemistry and Biology.
For Physics preparation:
For Biology preparation:
Use the NEET biology notes for quickly preparing the concepts.
After that, you can practice NEET biology questions.
Then take the Biology chapter tests for each chapter.
Finally attempt the biology full syllabus tests.
For NEET Chemistry preparation:
Use the NEET Chemistry notes for quickly preparing the concepts.
After that, you can practice the questions in the NEET Chemistry Question bank.
Then take the Chemistry chapter tests for each chapter.
Finally attempt the chemistry full syllabus tests.
If you are facing any difficulties in solving NEET Physics MCQs, i.e. NEET Physics Objective type questions, feel free to write your problems in the comments section below. We are committed to make your preparations smooth.